It's a beautiful warm day here and what better to do than turn on the sprinkler, dorn a bathing suit and grab a stack of good books and magazines and sit in the sun for the afternoon. Well maybe not the whole afternoon............ wink. I picked up some books at the library this morning that I had put on hold, sent my daughter off to afternoon kindergarten and slathered up my son with sunscreen and out we headed! One of the books I was really excited about was Where Women Create: Inspiring work spaces of extraordinary women. What a fun book and peek into other women's work spaces. It's FULL of pictures - my kind of book! *snicker*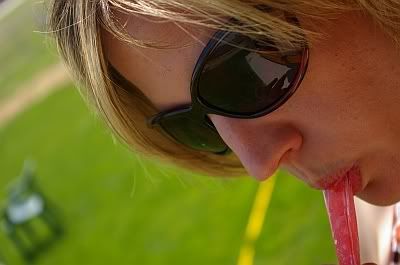 oh and don't forget something to drink - for us it was popsicles. Otter pops to be exact. Little tubes of frozen sugary cold goodness to keep us cool. Here's me with my new sunglasses. My daughter saw them on me and said, "Whoa mom! you have big eyes!!!" Had I been thinking I would have responded, "The better to see you with my dear. " anywho, I like them - big eyes or not.


Since we are just sitting here chatting away in the sun while we browse books and magazines soaking in the fun inspiring ideas , let me tell you about the fun I have been having on flickr.com. Now this site is not new, it's newer to me but I've had alot of fun playing around the last few days with it. I have alot of my designs loaded there in an account and just started looking

around for fun photo groups to join. and boy howdy did I find some fun ones. You can search for any type of group and probably find it. Then just add your photo to the group. It's a fun way to connect and share photos of similar things, some groups even have monthly challenges. Just another way to get your photos, designs, etc out there to be seen. Naturally I joined a few relvant to me and my interests, like fabric, aprons, etc. I even had a gal contact me and say she wanted me to post a picture of a top I had done in her "RED Clothes" photo group. Funny huh!

Kim of Creative Blogs surprisingly featured little ole me on her blog on Wednesday. Totally unexpected and she said some of the nicest things. Thanks KIM! Take a peek and check her scrapping blog too!!! Lots of fun!




One of the things I love to do is find great and fun opportunities for indie designers and pass them along so everyone can particpate and play too! Hey, if you can't help someone else along the way on your journey then what's the good ey? So, calling all handbag designers! Marie Claire and GLAM have teamed up and here's your chance to BE DISCOVERED! take a quick look to get the details and deadlines! Also, there is a new site in the works that looks fun and full of fashion. Might even be a good chance for indies to get involved and get noticed! check out Trendi - magic or tragic? they also have a link for their blog as well!

and what a better way to end this long chat then with a little girlfriend chit chat. I never realized how much my friend Susan and I look alike until I did a mini photoshoot with her recently. I had the chance to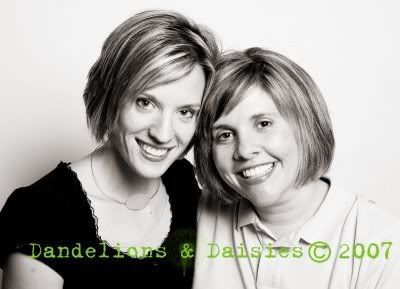 visit with her and her family when I was out of town at the Boutiquecafe girls Getaway and I pursuaded her to let her hubby take the camera and turn it around on the 2 of us so I could have a few snapshots of her and I together. IT was a blast! To see the pictures of her and I and me with her daughters sporting - oh yes - Shaggy Mosaic jeans - head over to her blog. She goes into hilarious detail about how we met and our first meet up.



Well thanks for indulging my long winded chat on this beautiful afternoon. Make sure to put your feet in the grass (don't you just love little tiny chubby piggies! those are my 3 year olds toes), turn on some of your favorite music, grab a drink, book or your laptop and enjoy some ME time today outside.